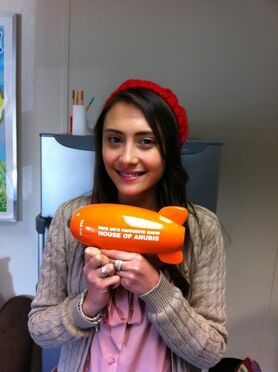 Klariza Clayton (born March 9, 1989) was born in Hong Kong, China but was raised in London, England. Klariza is half Filipino on her mother's side and half English on her father's. She has three older brothers and currently resides in Croydon, South London. Klariza is in a relationship with Jacques Nathan for almost 4 years and still are together. She previously and still stars on the British TV series, "Dani's House" as one of the main characters (Sam) with Dani Harmer which is shown on CBBC. In one episode of "Dani's House" (Series 4 Episode 11),
Brad Kavanagh
was a special guest star.
She plays Joy Mercer on "House of Anubis".
Gallery
Click here for the Klariza Clayton's Gallery
Twitter
She played Sam on "Dani's House".
She is one of two castmates to go on "Dani's House" the other castmate being Brad Kavanagh .