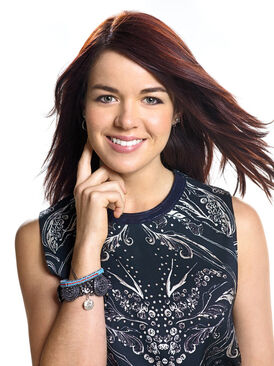 Jade Ramsey
(born on February 10, 1988) is an English actress. 
Jade was born in Bournemouth, England. 
Jade has been in many movies and television shows. She mostly acts with her sister
Nikita Ramsey
in these movies and shows. Also, she used to be a part of Chick Comedy on YouTube in the short show,
Twinny Somethings
. The web show had 5 webisodes posted on YouTube. She played Jean, while her sister played Hayley.
She and her twin sister Nikita both auditioned for the role of
Patricia Williamson
but Jade got it. Jade also auditioned for the role of
Nina Martin
, which eventually was given over to
Nathalia Ramos
.
She portrays Patricia Williamson on House of Anubis, and is close friends with her House of Anubis co-stars.
She has a identical twin sister named Nikita

.

Her twin sister is older then her by 20 minutes.

According to fellow castmate Nathalia 

she's a very good cook.

She has guest starred on the Nickelodeon game show "Figure It Out" along with cast member Ana Mulvoy-Ten.