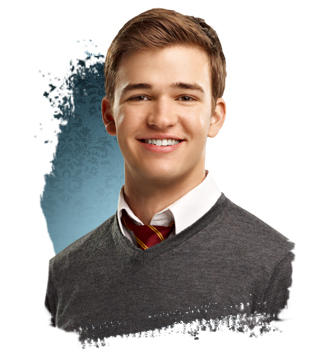 Eddie Miller (born Edison Sweet) is a main character from "House of Anubis". Eddie was the only one to know that Nina Martin left. 
Eddie is a new character who was introduced in Season 2. He is a bad boy and has been expelled from many schools. He is play by Burkely Duffield.
Relationships

Edit
Jerome Clarke
Edit
(2012-present; Friend)
Nina Martin
Edit
(2012-present; Friend, Protector)
Nina flirts with Eddie to make Fabian jealous. He is her protector.
(See: Neddie)
(2012-present; Friend)
(2012-present; Roommate, Good Friend)
Fabian didn't like Eddie at first. He didn't like Eddie's style of music. But then after a while they became good friends.
(See: Feddie)
(2012-present; Ex-Rival, Girlfriend, Ex-Friends)
Patricia and Eddie first met when she bumped into him in the lounge.
His nickname is Eddie Kruger (which was a name Patricia said when he came into the Anubis house).

His dad is Mr Sweet.