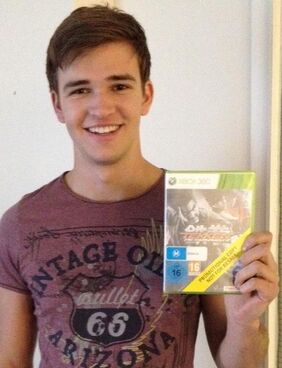 Burkley Duffield  (born August 9, 1992) is a Canadian actor, well known for this role as Eddie Miller (aka Edison Sweet) in the Nickelodeon hit TV show "House of Anubis".
Click here for Burkely Duffield's Gallery.
He was in the Nickelodeon movie "Rags" as Lloyd.
He guest starred in The CW hit TV show "Supernatural" as Ryan McAnn.
He was in the Lifetime movie "A Mother's Nightmare".
He is the oldest of three children.
He has a younger brother and a younger sister.
He is Canadian.
His sister's name is "Victoria Duffield".
He was in commericals.
He was in a Lifetime movie called "Under the Mistletoe".
Fellow cast member Louisa Connolly-Burnham's nickname for him is "Burky Wurky".
Burkely said in an interview that the cast of "House of Anubis" calls him "Burkfield". It was started by Francis Magee, who plays Victor Rodenmaar Jr.
Burkely took 8 years of hip hop and musical theater dance classes.
He was on the swim team in high school.
He was in various commericals when he was young.